Clone Manager Mobile Viewers
The mobile viewers are cross platform apps that run on smart phones and tablets including Android, iPhone, iPad and Windows. Viewers are used to view molecules and provide the basic functions associated with the molecule viewer window in the Clone Manager desktop application. Most molecule information can also be edited to allow updating annotations for the molecule and features. Sequence and restriction enzyme site information cannot be edited in the current version.
Sharing Molecules
The viewers and the desktop application can access the same Clone Shares to enable molecule sharing
Viewers can view molecules saved to Clone Share from the Clone Manager desktop application
Clone Shares can be hosted on cloud data storage services, such as Microsoft OneDrive
Clone Shares can also be hosted on our SciEd Web Share running on a local web server
Molecules edited in the viewer will update the molecule when accessed from the desktop application
Molecules edited in the desktop application will update the molecule when accessed from a viewer
Molecule Collections
Molecules can be organized into collections to provide quick access to molecules with a similar purpose
Molecules can be added to multiple collections to allow access from multiple places
Changes made to a molecule updates all collections that refer to that molecule
Requirements
Android version 9, Windows 10, iOS 15 or newer.
Clone Manager 11 or newer is required to add molecules to Clone Shares used by the mobile viewers.
Internet access is required for accessing remote Clone Shares and may incur charges if using a cellular data plan.
How to install viewers
Open the appropriate App, or Play, Store on your device
Search for 'SciEd Clone Manager Viewer'
Select the option to Get, or Install
The installer will create a personal data store on the device and will create a sample collection of molecules. These can be used to explore the capabilities of the viewer.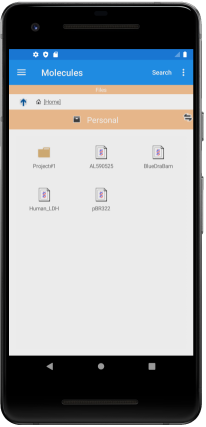 Smart phone showing Files view.
Links for more information: Using Clone Share to share molecules. You may also find it useful to view the Sharing Tutorial which includes using the mobile viewers and sharing molecules with Clone Manager.